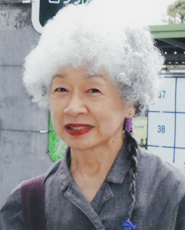 造形作家

柳田郁子

私の作品は、天然素材の綿布を用い、その縦糸か横糸を1本引き抜くことから始まります。

布は、我々にとってごく日常的なもので、世界中に多種多様な布が溢れグローバルな世界を持っています。日本に生まれ育った私は、伝統的な着物の世界、そしてありとあらゆる布に親しみ、魅せられてきました。布の世界は、日常から地域、そしてグローバルな世界へと私を導き続けてくれます。

私は、布に魅せられ、若いときから今日まで、布を織る織物とは逆に、布を一旦破壊してから構築する作業を繰り返してきました。現在、老齢の域に達しても、布は私を魅了し続け、生きる力を与えてくれます。
布が衣服となって人間の身体を包むとき、2次元の世界が3次元に変わりますが、私は1本の糸をひき抜く事によって3次元の世界に人を誘い、人と人の心をつなぐ作業を試みています。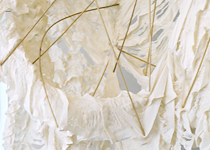 【制作方法】

一枚の綿布の縦糸と横糸を一本づづ引き抜いたり、縮めることによって、布に表情をつけていきます。仕上げは、日本の着物の洗い張りに使う道具である、伸子※1と張り手※2を用いて宙吊り立体オブジェに仕上げます。
作品によっては、アクリルペイントで色を加えることもあります。
※1 伸子:洗い張りや染色の時、布の両縁に刺し留めて弓形に張り、縮まないようにする道具
※2 張手:布の両端をはさんでひもで張る道具
Textile Artist

Ikuko Yanagida

I am a textile artist who creates sculpture with natural cotton.
Recently I collaborated with performing artists and increased my activities as a stage and costume designer.

My work begins with pulling one thread from a warp of natural cotton cloth. Fabric is a very common material in our life. Many kinds of fabric are flooding the world and fabrics have established a global world themselves.

I was born and raised in Japan. I spent a lot of time with, not only the traditional Japanese kimono, but also all kinds of cloth. Those textiles have amazed me. The textile world has been leading me from local experience to a regional and global world.

I was always fascinated by the fabric beauty; I have used a process of deconstructing fabric and reconstructing against the usual way which it is weaved. Now I have attained advanced age, the fabric continues its beauty and makes me more fascinated and gives power to my life. When I pull one thread, my world is one dimension. After the thread is woven, the cloth becomes two dimensions; draping the human body, cloth becomes three dimensions. When I pull one thread, I invite people to a three dimensional world. I hope my work will share the beauty and connect people's hearts.
[Process]

I simply pluck and pull one thread at a time from cotton fabric. I put new expression into the cotton fabric. I give the finishing touch, to the fabric using traditional Japanese tools which are used for washing and drying Japanese Kimonos. These tools are called Shinshi*1 and Harite*2. My work relies on hanging fabric using these special tools. I sometimes use acrylic paint for coloring.
*1 Shinshi (Tenterhook):A stick made of Banboo. The stick has two tiny needles at the end of both sides. When fabric is dyed or dried, Shinshi's needles stick out both ends of the fabric. The bamboo stick makes the fabric shape and makes it not shrink.
*2 Harite (Clothespin):A rectangular shape wood with tiny needles.
The pin holds both ends of the fabric and hangs it with a string.